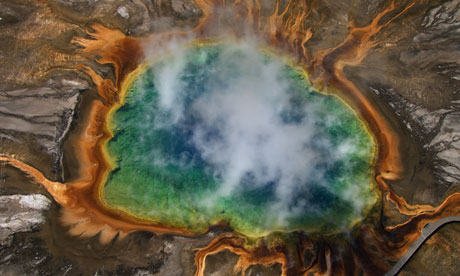 Yann Arthus-Bertrand
is the French (and, perhaps, more populist) version of Canada's
Edward Burtynsky
-- a photographer who uses the camera to describe the impact of humans on the planet.
In contrast to Burtynsky, who uses the monumental size of his photographic prints to memorialize the scale of human impact, Arthus-Bertrand is best known for his book and the associated UNESCO sponsored traveling exhibition,
The Earth from Above
.
Taken from the air, Arthus-Bertrand's images tend to be more abstracted and more traditionally beautiful than Burtynsky's. His aim appears to be to show the beauty of the planet, and thereby to promote love for it where Burtynsky tends to focus, albeit in ways that are visually stunning, on the impact of humans more than the beauty of the planet. Indeed, much of the environmental punch of both the Arthus-Bertrand's book and the exhibition come from the substantial amount of associated text that accompanies each image rather than the image itself. Arthus-Bertrand now has a film, Home, with much the feel of an IMAX film depicting the earth from above and available
here
on YouTube.
The Guardian recently posted an interesting article about him,
Yann Arthus-Bertrand: Looking down on creation.